Science Technology Engineering Mathematics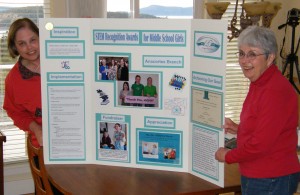 Our newest program is our STEM project which began in 2007.  The goal is to support women and girls in their efforts to involve themselves in STEM careers.  In June of that year, at the 8th grade Moving-Up ceremony, we were able to present four girls with certificates and monetary awards from our branch to recognize their achievement in math and science.  As the girls progress through high school they are invited to our annual March STEM meeting. We also plan to invite them on more field trips in the future. We've had one – to Microsoft – that was very inspirational.
In addition to supporting middle school girls, we began the high school program in 2009. This was part of the AAUW Washington State Scholar Recognition program.  In addition to the state certificate and scholar pins, our branch has given each girl an appropriate book or an AAUW logo flash drive and a monetary award.  We are planning larger scholarships in this category in the future.  STEM girls are selected by the teachers.
Tech Trek
Something new in 2013 is that AAUW-WA has organized a science and technology summer camp for middle school girls, which took place the week of July 21-27.  Our branch was able to send three girls. Tech Trek has occurred for the last 15 years in California and has been very successful in encouraging girls to continue their interest in science past middle school.
We are pleased to report that after the branch funded one girl, Tesoro Refining (Anacortes) funded the second and, as a happy surprise, the alternate was funded by Tech Trek WA itself! So, three Anacortes Middle School 7th graders (going into 8th grade) attended Tech Trek in Tacoma this summer. They related their experiences at our September General Meeting.
Special thanks to Tesoro Refining (Anacortes) who so generously supported the program.